Bob Gradolph, W8RZZ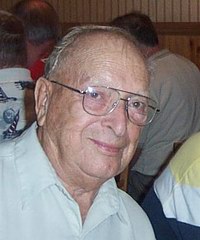 Robert was born to Christian C. and Tillie Gradolph of Petersburg, Michigan.

He is survived by his wife Rachel, 4 children: Dawn (Thomas), Ruth Ann (Thomas), Carol (Mike), and Louie (Beverly). There were 6 grandchildren, 10 great-grandchildren, and 10 great-great-grandchildren.

He graduated from Petersburg High School, Cleary College of Business, King Aviation, and Lear Jet Engine School.

For many years he owned and operated Gradolph Hardware in Petersburg and Gradolph Field Airport also in Petersburg. He retired to Florida and the Bahamas. On Crooked Island, Bahamas he was known as Uncle Bob and greatly loved.

While in Michigan, he was a member of the Petersburg Volunteer Fire Department, serving as chief for many years. He introduced radio communication to the fire department, which started his love for ham radio.

W8RZedZed QRT

- from the Monroe News, April 28, 2014:
http://www.monroenews.com/news/2014/apr/27/robert-c-bob-gradolph/.